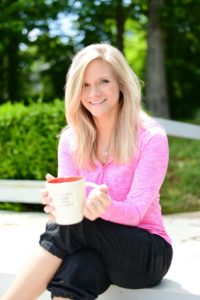 My name is Laurie and I am a clinically certified exercise physiologist.
Laurie Ann Training's Motto is "In pursuit of a healthy America."  Whether you are the director of a community/corporation and need preventative care for your residents/employees, or if you personally want to lose weight, increase your strength, or just feel better, Laurie can help. 
Early Stages
Laurie's passion for fitness came from an unexpected background. After battling with back pain that progressed significantly in her teenage years, she was forced to look for answers. Initially, she was prescribed large dosages of anti-inflammatory medications and worked with various spine manipulators.  It was not until she worked with a physical therapist and a team of physiatrists for the diagnosis of her pain source to be discovered. Laurie was diagnosed with degenerative disc disease in her neck and mid-back. Upon receiving the combination of dry needling and therapeutic exercises, her pain became manageable and ultimately rare. From that point on, she was determined to obtain an exercise degree in hopes of helping others to see and feel the benefits of exercise.
When starting college, Laurie obtained a basic trainer certification and worked in a corporate gym as a personal trainer. She applied her studies to not just her job, but her personal life as well. Dedicated to her new mindset of achieving optimal health, Laurie experienced her very own transformation in which she dropped over 45 pounds. When people ask her how long it took, she responds by saying,  "today". She explains that there is no time frame for a fitness journey. Instead, embrace each day and create a healthy lifestyle that you love. She further explains that while she was dropping the weight, she was also gaining in many other areas. She gained mental and physical strength, confidence and a desire to dedicate her life to health. She wants to help others find their strength and desire to be healthy as well.
Career Start
Laurie is a clinically certified exercise physiologist awarded though the American College of Sports Medicine. She received a Bachelor's of Science in exercise physiology and a minor in nutrition science from East Carolina University. Laurie not only specializes in working with the general population, but also in the clinical realm.  She has worked in an outpatient cardiac rehab facility in which she has vast experience with cardiac patients, stroke patients and other high risk individuals.  Her ultimate goal is to help individuals of all types excel in their fitness journey through mending their body from the inside of their emotional heart all the way to the outside of their physical body. To accommodate each unique need, Laurie fabricated a team of trainers, instructors and nutritionists.
It's time to take care of your health now! All you need to do is just send me a message via the form below.
[contact-form-7 404 "Not Found"]